Monday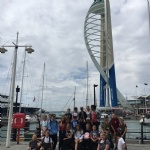 What a first day with so much packed in.
Sweets were opened before leaving Brockworth but along with Grease and The Greatest Showman songs, we made our way to sunny Portsmouth to ascend the Spinnaker Tower. The views were spectacular and yes, they all faced the glass floor challenge! After lunch the ferry crossing was wonderful with the sea breeze putting us all in Mrs King's cruise zone. It wasn't long before we arrived at our hotel with many of the children calling it a mansion - it's certainly the largest hotel our school has been given. With home made food and large rooms, we have settled in to what will be our home for the next few days. We finished off the day with a walk to the sea front with some games and plenty of sea air to tire us all out (well, we're hoping!)
No comments have been left yet.